by Sarah Preston
Day 1
Fuel up and get your caffeine fix with a coffee or espresso and breakfast at Yours Truly, which opens at 6:30am most days. Weather permitting, opt for the patio to enjoy a three-egg omelette or a Belgian waffle and the dawn chorus.
After breakfast, head to Mentor Marsh State Nature Preserve's Wake Robin Trail, a quarter-mile long boardwalk. As you enter the swamp, look for sparrows along the boardwalk and on the fence. Song, savanna, and marsh sparrows are common, evening sparrows are rare, and you may spot a clay-colored sparrow, which is rare for Ohio, but has been seen here. Seek out and listen to Sora, Virginia Rail, or even Yellow Rail, another Wake Robin rarity, which may be just a few feet down the boardwalk. Finally, look for migrating Horned Larks and American Pipits.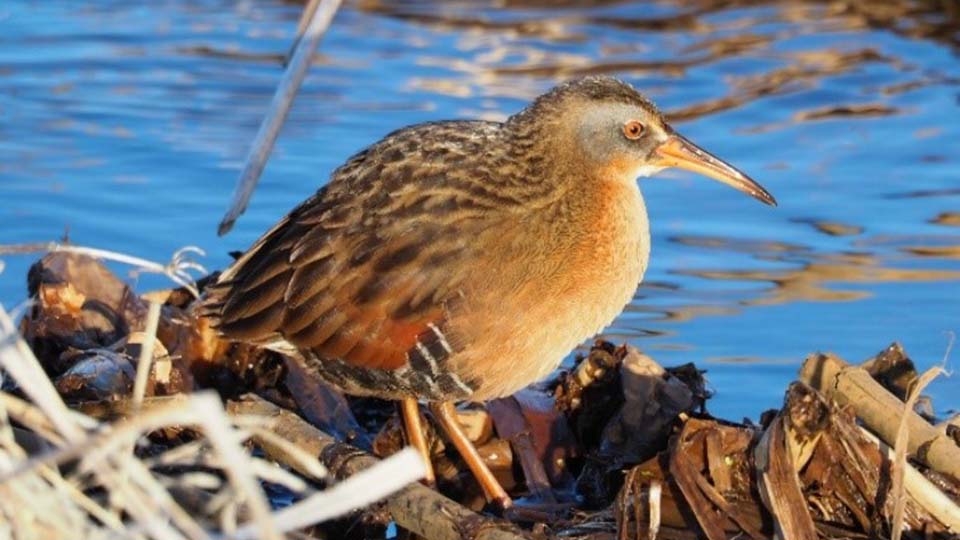 Virginia Rail at Wake Robin Trail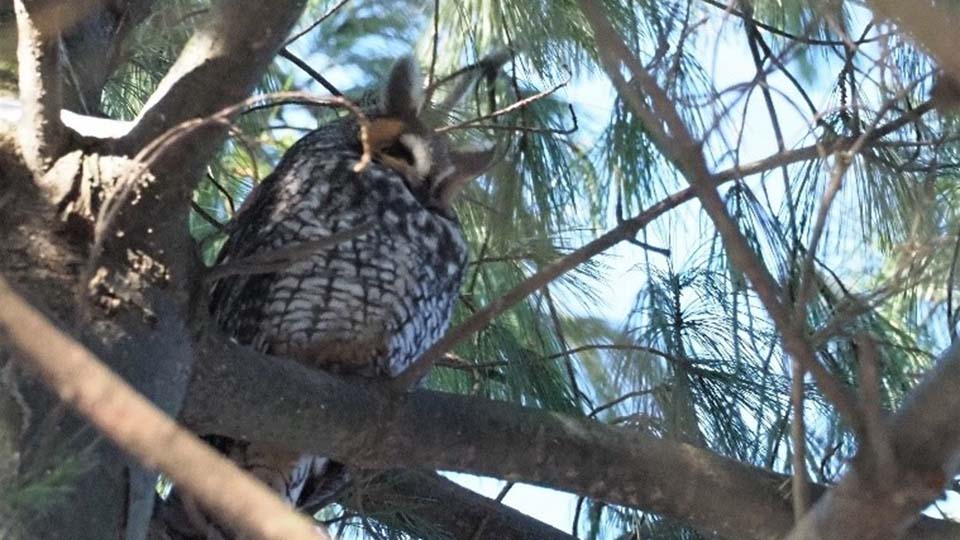 Long-eared Owl at the Kerven Trail
Then, take a short drive down Corduroy Road to the Carol H. Sweet Nature Center and the Kerven Trail trailhead, which is a one-mile lollipop. In about a quarter of a mile you will come to a grove of tall pines, which you should quietly examine for owls. Eastern Screech-Owls and Great Horned Owls are known to nest nearby and migrating Long-eared Owls have roosted here. Also check the pines for red-breasted nuthatches and check below for fox sparrows. Continue around the loop and you will come to a blind with a clear view of the central part of Mentor Marsh. Keep an eye out for a hunting Peregrine Falcon, Swivel or Hen Harrier.
Spend the rest of the morning exploring the trails of Mentor Lagoons Nature Reserve at the western end of the swamp. The Marsh Rim trail is particularly good for bird watching, passing through the woods that border Mentor Marsh. The Least Bittern, Common Gallinule and Marsh Wren nest in this part of the marsh. The marsh edge habitat supports a variety of migrants, including prothonotary warbler, mourning warbler and Canada warbler, and the American redstart nests here.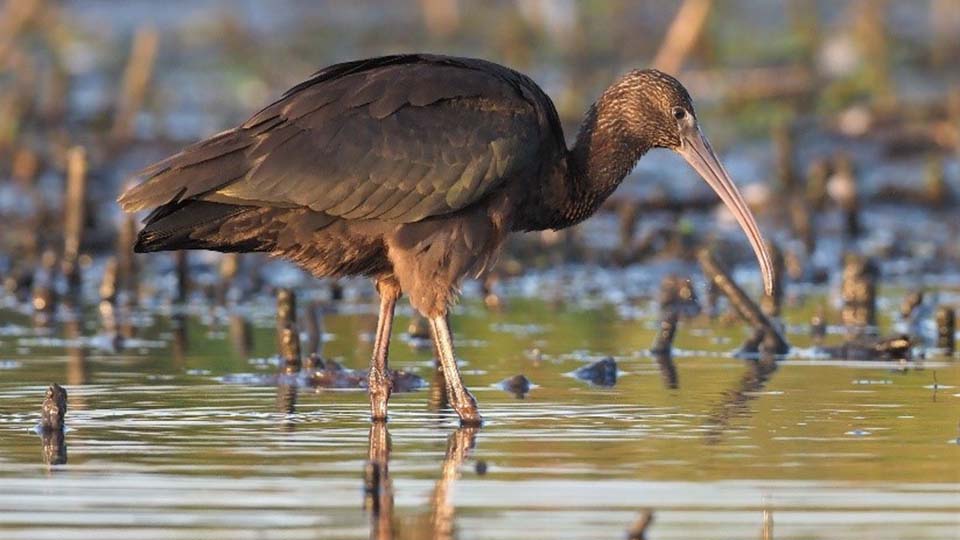 Juvenile Plegadis Ibis species in Mentor Swamp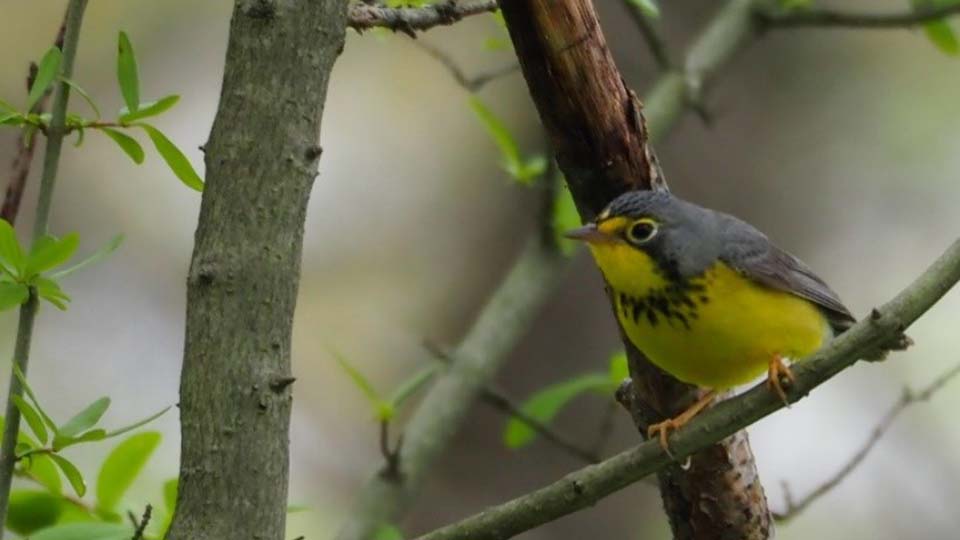 Canada Warbler at Mentor Lagoons Nature Preserve
For lunch or brunch, venture a few miles west on Lakeshore Boulevard to the Spot on Lakeshore, which serves breakfast from 7 a.m. to 3 p.m. and lunch from 11 a.m. to 3 p.m. Try one of the Sammies such as the Chef, a braised hoagie short rib or the Matthew, a spicy salmon patty, both feature creative combinations of unique, local ingredients. If you fancy a mimosa, they have a variety.
After lunch, view Mentor Marsh by canoe or kayak. The Town of Mentor rents kayaks, canoes, and stand-up paddle boards from Memorial Day through Labor Day. Rental rates are $10/hour per single kayak or $15/hr. by kayak or double canoe. The rental stand is open Monday to Friday from 10 a.m. to 8 p.m. (last launch at 7:30 p.m.) and Saturday to Sunday from 9 a.m. to 8 p.m. (last launch at 7:30 p.m.). There is no charge to launch your own kayak or canoe. Observe dozens of Swallows and Violet Swallows feeding above you, watch an Osprey fishing for a fish, or admire shorebirds such as Wilson's Snipe, which usually fly away before you can catch them. see on earth. Rarities occur with regularity in Mentor Swamp, so comb the area for rare waders such as the glossy white-faced ibis, little blue heron and cattle egret as well as birds of rare shorebirds such as the buff-breasted sandpiper and Wilson's phalarope.
Discover Mentor's best-kept culinary secret when you dine at Skye Bistro located inside the Best Western Open for Dinner: Monday-Thursday 5-9pm, Friday 5-9:30pm and Saturday 4-9:30pm . You can choose between the dining room, the pub or the patio, but reservations are recommended. If you're looking for local Great Lakes cuisine, try the walleye, or if you want a main course from the land, go for the grilled pork chops. They offer weekend specials and many gluten-free selections.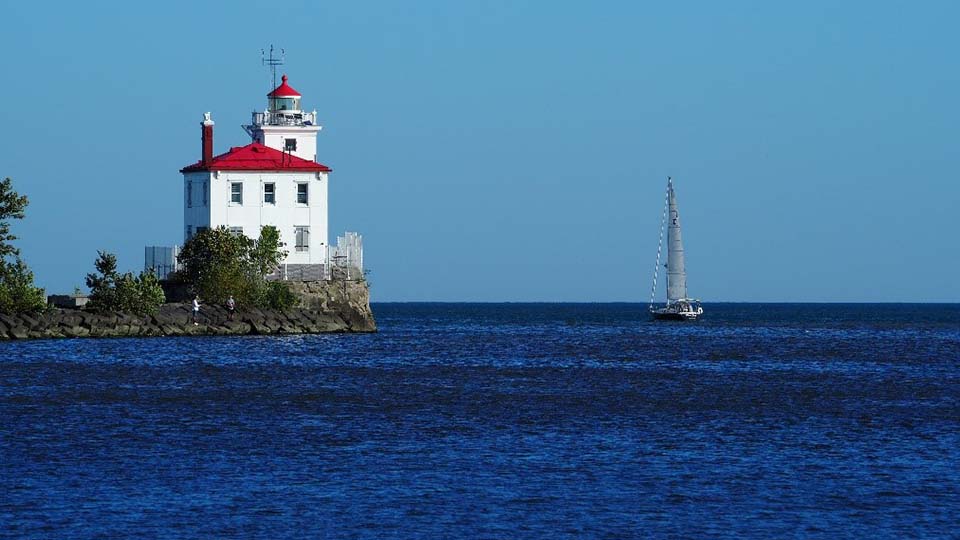 Fairport Harbor West Breakwater Lighthouse at Headlands Beach State Park
Day 2
Before dawn, grab a coffee and take-out donuts or muffins from Spudnuts, which opens at 3 a.m., and head to Headlands Beach State Park and the adjacent Headlands Dunes State Nature Preserve, which open half an hour before sunrise. Park at the east end (P1) and from there you will see a gazebo and a walkway leading to a boardwalk. Watch the sun rise behind the lighthouse as you eat your breakfast treats on the observation deck at the end of the boardwalk.
After breakfast, search the mile-long shoreline for sandpipers and plovers, especially the endangered piping plover, and watch for flocks of avocets or American willows.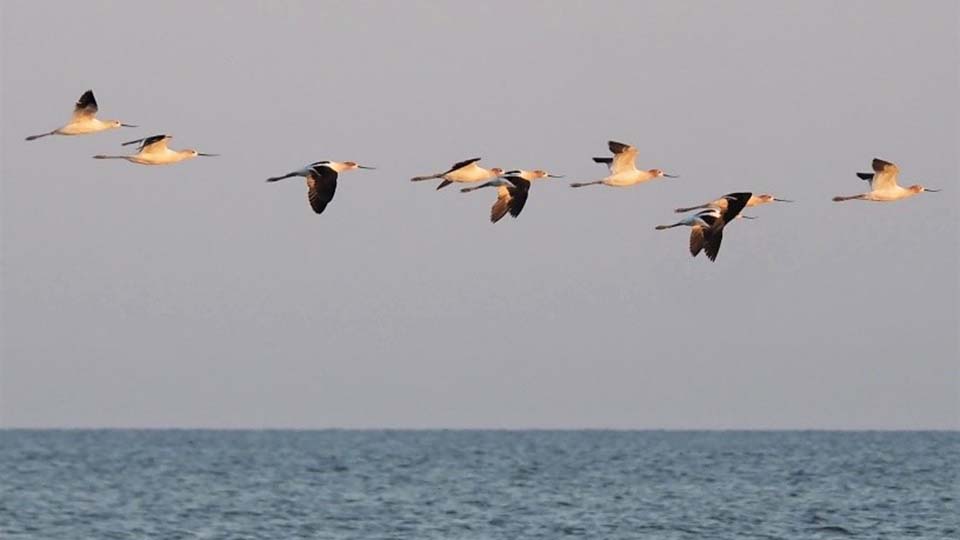 American avocets fly near Headlands Beach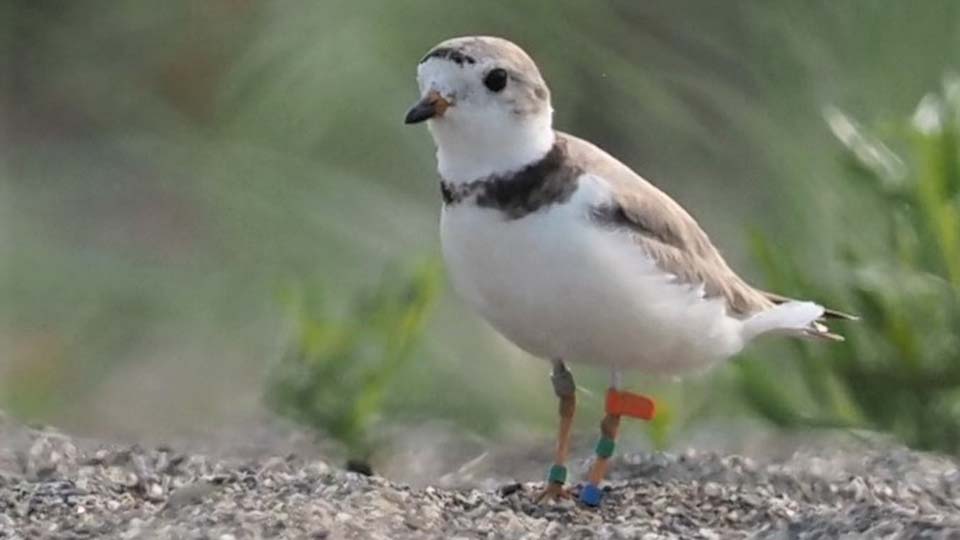 Piping Plover on Headlands Beach
Then take the Fisherman's Trail back to the parking lot, but be sure to hit all the side trails that wind through the dunes and wooded area. During a peak of migration in the morning, this place can be loaded with migrant warblers, vireos, tanagers, flycatchers and even the occasional owl or whip-poor-will. You can easily spend the rest of the morning birdwatching in this area, but in the near future there will also be a wetland area with a boardwalk at the western end of the park.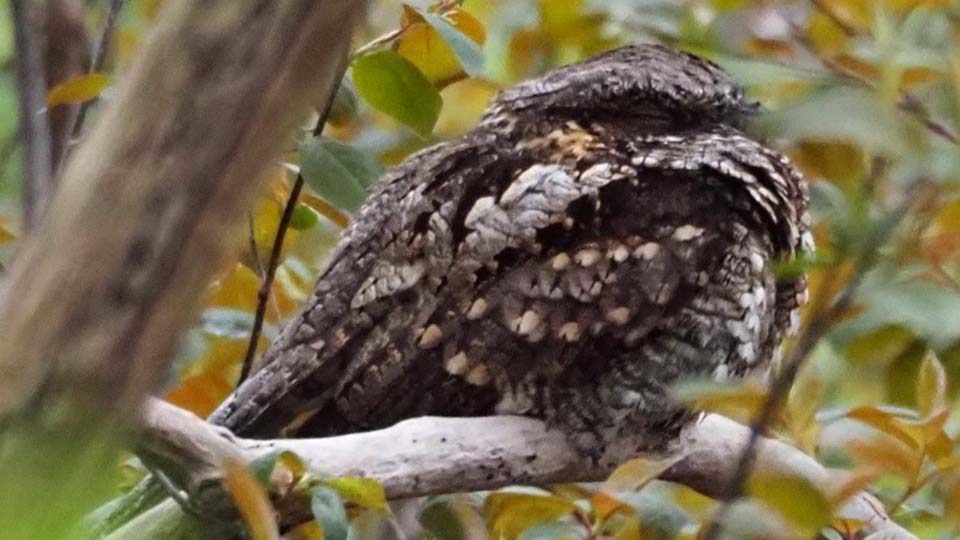 Whip-poor-will at Headlands Dunes
Black Warbler at Headlands Dunes
For lunch, drive a few miles south on Route 44 to Scooter's World Famous Dawg House for specialty dawgs and ice cream, but beware that their World Famous Fresh Cut Fries family size is enough to feed an army. If Scooter's isn't open for the season yet and you're still craving a gourmet dog, head to Dynamite Dawgs one exit west on 2 and north on Route 615, which is open year-round but under the fries for fried curd cheese and the ice cream for a fried twinkie.
After lunch, head back north and head for the Zimmerman Trail at Mentor Marsh State Nature Preserve, which has a small parking lot on Headlands Road. This is the northeast end of Mentor Marsh. Before hitting the trail, walk down the hill to the bridge and head north and south to spot shorebirds and waterfowl. Scan the water's edge for American Bitterns or Black-crowned Night Herons. You might even want to walk to the southwest corner of the intersection of Route 44 and Headlands Road and explore the swamp from there.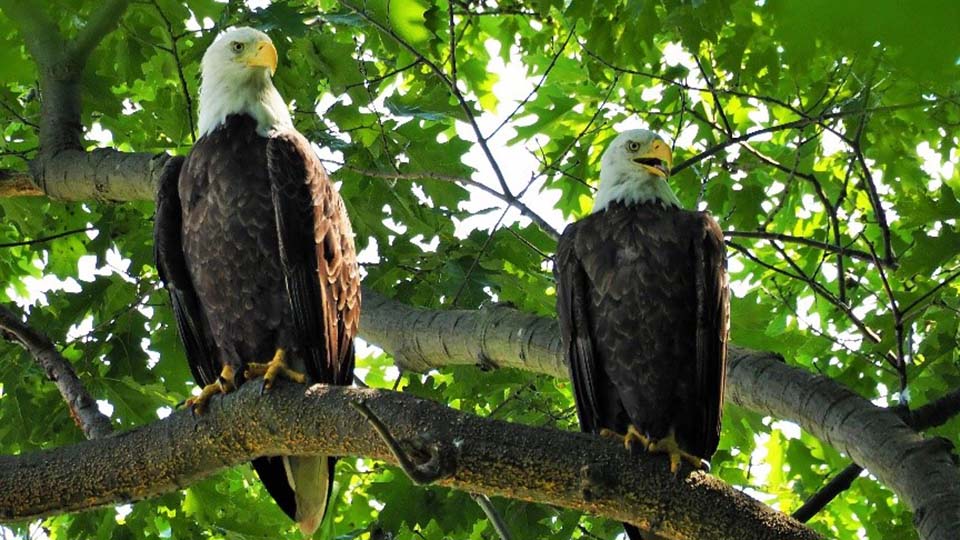 Mentor Marsh Bald Eagles on the Zimmerman Trail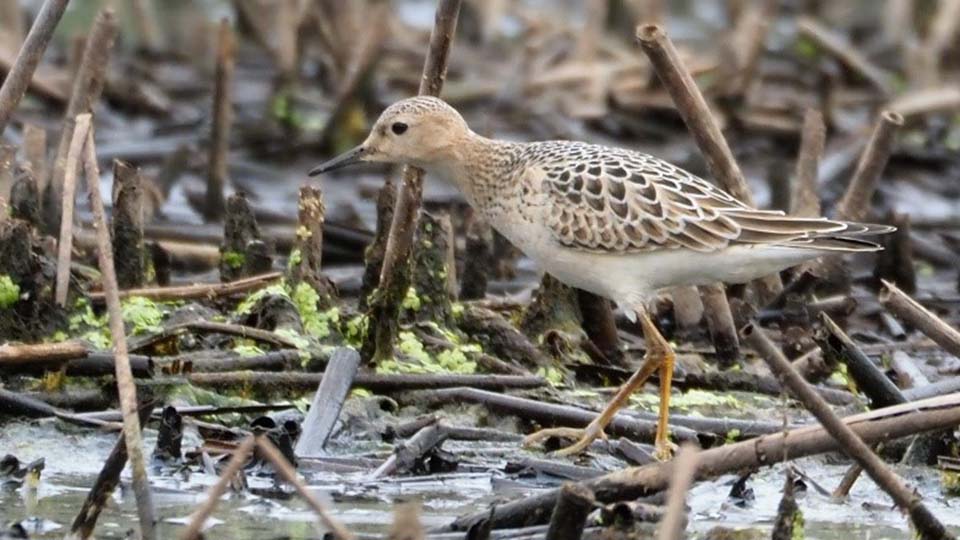 Buff-breasted Sandpiper in Mentor Marsh
Work off your lunch as you hike the hilly two-mile Zimmerman Trail that follows the edge of the Mentor Swamp. The best bird diversity is in the first half mile and some birders only hike to the bottom of the first hill, but the rest of the trail has marsh views you can't get anywhere else and the woods are home to many woodpeckers. species including the Red-headed Woodpecker. A warning though, the trail can get muddy and slippery so be prepared.
Celebrate your two-day birding adventure with a fantastic final meal at Indian Kitchen on Mentor Avenue. Start with a vegetarian platter, an assortment of fried cheeses and vegetarian snacks. For dinner, order the butter chicken or if you like it spicy, the vindaloo and don't forget the garlic naan. If you prefer a vegetarian or vegan meal, there are plenty of options.
The top five Lake County eBird hotspots are all located in the town of Mentor and all have been included in this article. Two of them, Headlands Beach State Park and Headlands Dunes State Nature Preserve are among Ohio's top three hotspots on eBird in number of species (291 and 287, respectively) and spring migration is the best time to the year to visit!
Photos of Sara and Adam Preston