Lying flat on the ground sifting through rocks and dirt might not sound like fun to everyone, but for a group of intrepid volunteers, it's a dream come true.
The Australian Opal Center held its annual dinosaur fossil dig at Lightning Ridge in outback New South Wales.
People have traveled from as far as Western Australia to spend time digging through opal mine tailings in hopes of finding a valuable fossil.
In other years, the excavations even attracted foreigners.
A dig discovery can change the course of a life, as Timothy Frauenfelder knows.
"I got here and one of the very first fossils I found was a dinosaur tooth," he said.
Eight years later, he nearly completed his doctorate and did his honors on that tooth.
"I'm basically just a dinosaur dentist.
"If we have a whole bunch of different teeth, that can tell us how rich the diversity of animal species was in the area."
Frauenfelder said volunteers have been treated to more discoveries this year.
"This year [we found] lots of plant material, quite a few mussel shells as well.
"We also found quite a few small pieces of bone, possibly a dinosaur bone, and a snail and quite a few other pieces."
It only took the smallest fragments to reveal prehistoric flora and fauna, he said.
"Even from the smallest bits of bone, you can still paint a picture of what that particular animal would have looked like."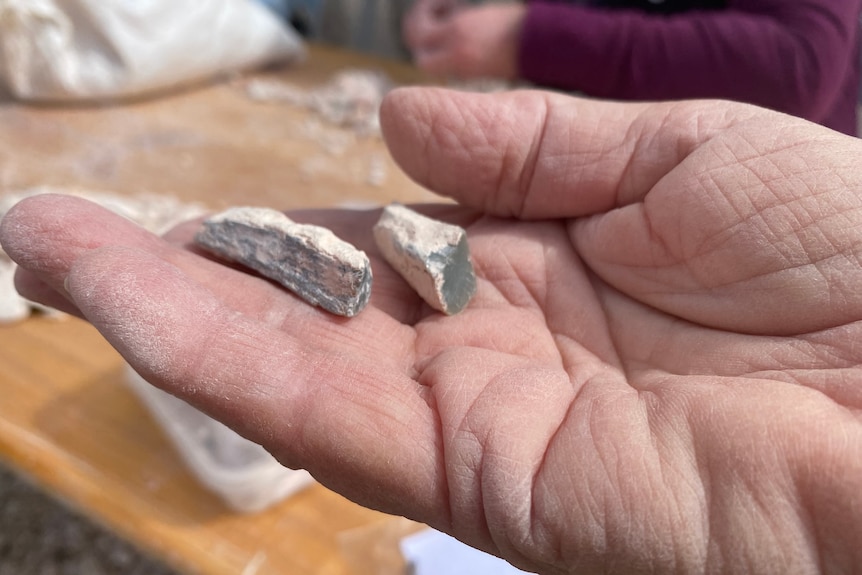 Hayden Henderson, paleontology student and self-proclaimed "dinosaur child", researches a sauropod that was discovered near Lightning Ridge.
The excavation volunteer team found tiny bone fragments that will eventually be used to piece together the puzzle.
He said bone hunting could be risky.
"It's kind of like the game, but maybe not as bad."
It can be painstaking work; the rocks were excavated from an underground opal mine and then left in piles, waiting to be sorted by greedy hands.
Plant material, fish jaws and turtle ribs were also discovered throughout the excavation.
For volunteer digger Helen Ward, examining rocks was second nature.
"I was brought up with opals because my mother was a geologist; she was educated at the University of Sydney and she used to bring students here.
"Opals have kind of been a part of my life, so when I had the opportunity to come here I thought, why not?"
It took Ms Ward two days to drive from Brisbane to Lightning Ridge, but she said the trip was worth it.
"I picked up what I thought was a bone, but when we got back here the experts told me it was actually part of a fish jawbone.
"He had very nice little marks on the outside of his jaw.
"It's the thrill of discovery, you know."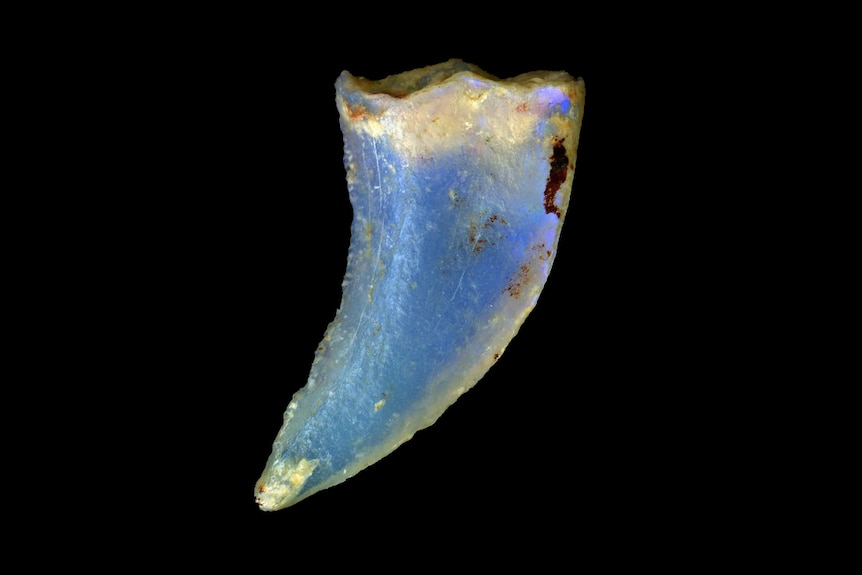 Jenni Brammall, organizer, paleontologist and chief executive of the Australian Opal Center, always felt she was onto something special in opal town.
"Lightning Ridge is one of Australia's most important mammalian fossil sites; even though we're talking about dinosaurs, here we find fossils of plants, turtles, fish, flying reptiles."
She said a small but exciting discovery was made during the excavations.
"This week we found a talkative little button.
"There are only three places in the world where fossilized shells have been found – it's so weird – Texas, Japan and Lightning Ridge."
And this type of fossil was unique to Australia.
"These are the only opalized yabby buttons in the world," Ms. Brammall said.
"Australia is the only place in the world where dinosaur fossils have been preserved as opal."
She said the mining fields had a lot to offer because of the tailings.
"They [opalised fossils] are absolute national treasures."