Nestled in the alpine region of Kosciuszko National Park, 80 frogs are moving into new homes as scientists race against time to save these precious animals from extinction.
The spotted tree frog is critically endangered in New South Wales, one step away from extinction, and is one of many species battling a range of threats including disease and climate change. This year the NSW Government released 80 Spotted Tree Frogs into Kosciuszko National Park after they were badly affected by the unprecedented summer 2019-20 bushfires.
NSW Environment Minister James Griffin said the species became extinct in the state in 2001 due to the chytrid fungus which nearly wiped out the southern and northern substantiated frogs. Thanks to work between the government's Saving our Species program and the Melbourne Amphibian Research Centre, the frogs have been given a second chance.
"In 2015, our endangered species experts released spotted tree frogs from this breeding program into the wild, and it's estimated that there were between 250 and 300 frogs in the wild," Griffin said. "Tragically, it is estimated that only around ten of these frogs survived the devastating bushfires of 2019-20."
The Department of Planning and Environment's senior endangered species officer, David Hunter, said the fragile alpine ecosystem where the frogs lived was unique to NSW and Victoria and featured native wildlife not found anywhere elsewhere on Earth.
"The Spotted Tree Frog is fundamental to maintaining ecosystem health in the NSW Highlands rivers where it lives. It occupies many streams where it is the only frog species, and the tadpoles of this species consume nutrients and algae in large numbers," Hunter said.
"They also serve as food for other species such as snakes, birds, mammals and predatory invertebrates, playing an important role in the food web."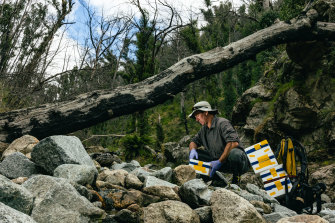 Only 12 populations of spotted tree frogs have been located in Victoria, mostly on the northwest side of the Great Dividing Range between the central highlands and Mount Kosciusko in New South Wales.